About Us
Treat yourself to a delicious Indian cuisine by visiting the MoMo N More restaurant in Plympton. We are located at 55a Bray Street, just several minutes from Mass Mall. You can start your meal with an entree of Vegetable Samosa or Spring Rolls before ordering the Chicken Curry, Lamb Chops or Vegetable Biryani with Raita. Complete your meal with a side of Garlic Naan or Onion and Cheese Kulcha. You are welcome to dine inside the MoMo N More restaurant, or you can order your meal for pick-up or delivery.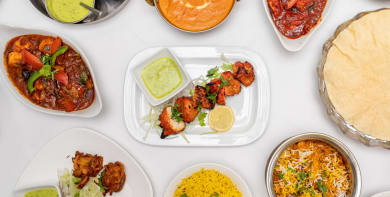 Reviews
Mark
"I've ordered multiple times and each time it has been amazing!"
19/12/2021
Cathy
"Always delicious food! We ordered so much the driver said 'enjoy your party' and there are only 2 of us 😂😂😂 We will be enjoying delicious leftovers for days to come 😁"
23/10/2021
Tim
"Food was amazing quality and so delicious. We will definitely be ordering from them again."
9/10/2021
Contact Us
Find Us
55a Bray Street, Plympton, 5038
Opening Hours
Tuesday
5:00 PM - 10:00 PM
Wednesday
5:00 PM - 10:00 PM
Thursday
5:00 PM - 10:00 PM
Friday
5:00 PM - 10:00 PM
Saturday
5:00 PM - 10:00 PM
Sunday
5:00 PM - 10:00 PM
Please note, delivery times may vary.
We deliver to
5037 Glandore, 5037 North Plympton, 5038 Camden Park, 5038 Plympton, 5038 Plympton Park, 5038 South Plympton, 5039 Clarence Gardens, 5039 Edwardstown, 5039 Melrose Park, 5040 Novar Gardens, 5042 Clovelly Park, 5043 Ascot Park, 5043 Marion, 5043 Mitchell Park, 5043 Morphettville, 5043 Park Holme, 5044 Glengowrie, 5044 Somerton Park, 5045 Glenelg, 5045 Glenelg East, 5045 Glenelg North, 5045 Glenelg South, 5046 Oaklands Park, 5046 Warradale